• No menu on small screen devices
Please scroll down to view pages.




Cozy Cat Inn
1206 East Boyer Street
Tarpon Springs FL 34689
727 - 940 - 2208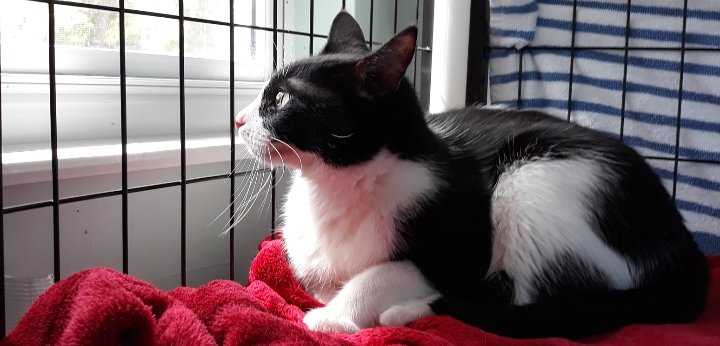 Each boarding space has multi-level shelves which can be removed if you prefer to bring items from home. All items must fit through an 18 inch door, not exceed 57 inches in height, and any carpets/blankets must be machine washable. Here are some of the ways our guests made themselves at home . . . . .
Carpet covered towers and scratching posts cannot be disinfected between guests but you may bring yours.
The Cozy Cat Inn is designed specifically for the safety and comfort of cats. The private spaces are extra large, multilevel, and available with or without windows. All feline guests are personally monitored by a licensed, bonded and insured veterinary technician with more than twenty years of quality care giving experience. Licensure, bonding, and insurance documentation are available at the facility for your review upon request.

Hours, tours, check-in, and check-out are scheduled by appointment days, evenings, or weekends. Please call us to schedule ( 727 - 940 - 2208 ).
Fees
Medication fee is $5/day minimum. Diabetic monitoring is an additional $12/night. Glucose monitoring is available as needed.

If you have five or more cats, please inquire about in-home care limited availability @ $20/trip if within 5 miles. Pick up and delivery available @ $20/trip if within 5 miles.
Check-In Rules
(implemented for the safety of your cat as well as the safety of other guests)
Cats are required to be secured in carriers to enter and to exit the Cozy Cat Inn.

Information and consent forms must be completed prior to admission. Please contact us to obtain forms via email, fax, or US mail. Photo ID and valid credit card or cash payment is required upon admission.

You must provide proof of current distemper and rabies vaccinations or a veterinarian's waiver if vaccinations are not advised. Cats who are not flea-free will receive treatment at owner's expense. Prescription diets and medications are to be supplied by the cat's owner. Boarding may be refused if a cat appears to be ill at the time of admission.